Fr. Peter teaches Rosary prayers in "Decade Rosary" Live Record from ArchToronto w/ Children's Rosary® member - apostolate movement recently recognized by the Vatican Dicastery of Laity, Family & Life
Video models the Public Rosary in virtual prayer session that can be implemented by parishes, schools, Domestic Church. Help others learn the entire framework of the Holy Rosary for 03/25 Feast.
THE ROSARY HOUR PODCAST NEWSLETTER [2nd Edition, Revisions]
---
ETERNAL WISDOM
---
"To recite the Rosary in fact means enrolling in the School of Mary and learning from her, the Mother and disciple of Christ how to live deeply and fully the requirements of Christian faith -- she was the first believer, the first to have an ecclesial life, she who in the Upper Room was the center of unity and love among the first Disciples of her Son."

(St. Pope John Paul II: Oct. 2, 1988)
---
POST EDITED BY: KR & AG [w/ 2nd Edition, Edits by CHP]
---
ABOUT THIS VIDEO PRESENTATION: MARCH 24, 2023
---
CLICK [*HERE* FOR NEW LIVE RECORD VIDEO] DIRECTED BY KAREN, w/ help of Dan, Dr. Kaufman & Amelia
---
THE MOST HOLY ROSARY OF THE BLESSED VIRGIN MARY
---
This video lesson was imagined by Children's Rosary, the Rosary Hour Podcast w/ the help of Holy Rosary Church to teach children, parents, parishes, schools & the domestic Church all the prayers of the Holy Rosary starting with one decade.

Covering Poster created by Member of Children's Rosary, Amelia.
---
PART I: VIDEO, "THE PRAYERS OF THE HOLY ROSARY"
[VIDEO TRANSCRIPT w/ LESSON NOTES RELEASED ON OUR PODCAST NEWSLETTER & via renovated Digital Toolkit for Rosary Leaders by May 2023.

Fr. Peter and Amelia model the format of a Public Rosary (leader / response) so loved by the Mother of God, according to St. Louis Marie de Montfort, and also instructed as a most efficacious approach to prayer by Jesus in the Gospel: "For where there are two or three gathered together in my name, there am I in the midst of them." (MT 18:20)

Note: The Fatima prayer taught by Our Lady in the apparitions in Portugal is not included in this recording, primarily due to the limits of the Imprimatur of the text; however, we will include this prayer in our Portuguese Rosary lessons as will an explanatory article from O'Terço / a future post when we return to our Eschatology 101 explorations. Padre Nuno etal. will assist with this exploration.
---
"For where there are two or three gathered together in my name, there am I in the midst of them." (MT 18:20)
---
PART II: VIDEO, FOOTNOTES TO THE PRAYER OF THE ROSARY
Today's step-by-step video lesson also includes extended Rosary teaching notes following Fr. Peter and Amelia's presentation from:
Dr. Blythe Kaufman, Peter Herbeck, and Sonja Corbitt + extra prayer / blessing granted to all listeners to the Rosary Hour Podcast by Fr. Chris Alar

NOTE: Children's Rosary® apostolate movement was recently recognized by the Vatican Dicastery of Laity, Family & Life and will be presented to the Bishops through the list of Vatican selected prayer apostolates.
---
LEARNING OBJECTIVES IN THE SCHOOL OF OUR LADY: LESSON 1
---
WRITING ACTIVITY: "ON RECITING THE HOLY ROSARY"
---
ROSARY CITATION EXERCISES:
---
HAVE YOUR STUDENTS DISCUSS / ANALYZE / DEEPEN THROUGH GROUP CONVERSATION THE CONCEPTS IN THE FOLLOWING CITATION:
"Reciting the Holy Rosary is not a matter of repeating formulas but, rather, of entering into confidential conversation with Mary, speaking to her, showing her our hopes, confiding our pain, opening our heart to her, declaring to her our willingness to accept the plan of god, promising faithfulness to her in all circumstances, and especially those which are difficult and painful, sure of her protection and certain that she will obtain for us from her Son the grace necessary for our salvation."

(ST. POPE JOHN PAUL II)
LETTER TO THE MOTHER OF GOD: In your classroom, family, RCIA meeting, parish group, youth group, home school — we invite you to write a confidential letter to Our Lady in your Rosary / Prayer Journal based on the above citation. Tell our her everything JPII suggests in the citation above. Or, focus on one aspect "showing her our hopes", for instance, and expand.

ESSAY: In your journal, explore how this citation is true by giving reasons in a personal essay and argue how can the prayer of the Rosary become central to Our Lady functioning in your life to bring you to healing in the Wounds of Christ? For info on the Wounds of Christ defined by Fr. Chris Alar and Dr. Bob Schuchts, watch this video from Part 2 and use it as a video resource in your Bibliography.
---
HELP US SPREAD THE MESSAGE OF THE HOLY ROSARY
---
Our team invites you to use this video & the microtalks / newsletter to help all those you encounter — in so far as is possible — to renew their devotion to the Blessed Mother through the prayer of the Holy Rosary.

One year ago, Father Anthony Gramlich, MIC encouraged our team from his desk at the National Shrine of the Divine Mercy. He instructed us in this way:

"Use your skills as educators to find a creative way to teach the Holy Rosary through your podcast."

One year after that spiritual direction, and 15 expert guests later, our team has learned more about the Rosary than we could have ever imagined — and we hope that the tools we've put together so far might somehow help you to assist anyone you encounter to rediscover the Holy Rosary, an urgent request of our Blessed Mother in her apparitions and a task repeatedly requested by St. Pope John Paul II in his discussions about the The Rosary: his "favorite prayer".

INQUIRIES? Select subscribers are welcome to e-mail our podcast: rosaryhourpodcast@substack.com about this video.
ALL RIGHTS RESERVED © COPYRIGHT 2023-present: THE ROSARY HOUR PODCAST: "Fr. Peter teaches Rosary prayers in "Decade Rosary" Live Record from ArchToronto w/ Children's Rosary® member - apostolate movement recently recognized by the Vatican Dicastery of Laity, Family & Life". Anyone can teach children, seniors, families to pray a Decade-a-day: step-by-step Rosary prayers led by Fr. Peter, pastor of Holy Rosary Church w/ member of Children's Rosary®. Handout for catechists / educators" published on 25 MARCH 2023 midnight, EUROPE TIME. AMELIA + FR. PETER TEACH THE ROSARY PRAYERS. PRESENTED BY TRAVESSA DA SENRA HOUSE PRESS (Porto, Portugal)
---
THE SCHOOL OF OUR LADY OF THE ROSARY [ FOR EDUCATORS]
---
OVERVIEW: The teaching video teaches "How to Pray the Prayers of the Holy Rosary", step-by-step with prayer cards created by Amelia to help her friends and their families to learn the prayers of the Rosary and how / when to hold the Rosary beads. Rosary footnotes in the second part of this video
---
WHAT IS LEARNED FROM RECITING THE HOLY ROSARY?
---
To Be Continued:

Our team shall leave it to the capable Catholic educators to be creative in generating the original assessment Rubrics and Learning Skills documents that can be easily invented after reviewing the suggested list of skills in upcoming posts.
---
PDF 1: FULL TEACHING BOOKLET FOR THIS VIDEO WILL BE IN THE NEW DIGITAL TOOLKIT FOR ROSARY LEADERS BY the END OF MAY 2023 w/ FIRST SATURDAY DEVOTION EXEMPLAR to be RELEASED BIT-BY-BIT UNTIL THEN.
---
Educators can use the above documents to create their own models for assessment based on their local teaching methods and on the two basic "Learning Objectives."

Should your School of Our Lady invent something great & worth sharing, send it to our podcast team to be considered in the Digital Toolkit for Rosary Leaders. Should you wish to make a contribution to our podcast for your Professional Development, we will be happy to hear from you:

Write to us via substack: rosaryhourpodcast AT substack.com, or leave a comment below and we'll begin our first chat thread.
---
HOLY ROSARY TORONTO INVITES YOU TO SATURDAY MASS: 03/25
---
March 25th, Fr. Peter reminds that we are called by the Pope to renew our Consecration to the Immaculate Heart of Mary.

Fr. Peter invites those visiting or living in the Archdiocese of Toronto to a Solemn Mass and Holy Hour with Confession + Consecration to the Immaculate Heart of Mary tomorrow:

8:30 a.m. ROSARY

(Confession during the Rosary)

9:00 a.m. Solemn Mass / Act of Consecration then Holy Hour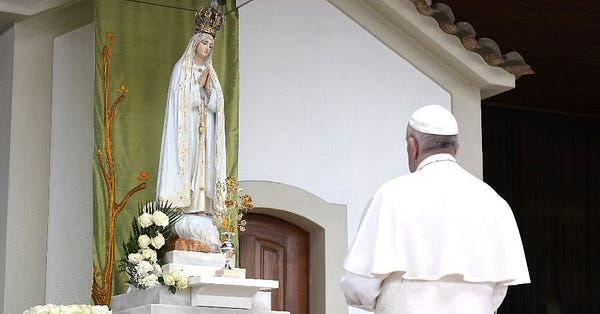 bit.ly
Pope Francis invites Catholics to renew consecration to Immaculate Heart of Mary on March 25
The solemnity of the Annunciation on Saturday marks one year since Pope Francis consecrated Russia and Ukraine to the Blessed Virgin Mary.
---
1858 MARCH 25:
---
OUR LADY OF LOURDES

"On 25th March 1858, the day of the sixteenth apparition, Bernadette asked the "Lady" her name. The "Lady" replied in the local dialect: "Que soy era Immaculada Counceptiou", which means "I am the Immaculate Conception". The Immaculate Conception is "Mary conceived without sin, by the merits of the Cross of Christ" (definition of the dogma promulgated in 1854). Bernadette went to see the Parish priest straight away to give him the name of the "Lady". He then realized it was the Mother of God who was appearing in the Grotto. Later, Mgr Laurence, Bishop of Tarbes, authenticated this revelation."
---
FOOTNOTES:
1
Rosary footnotes from SONJA CORBITT, CATHOLIC EVANGELISTA & PETER HERBECK, VP of RENEWAL MINISTRIES, ANN ARBOR MICHIGAN.
2
Let us pray for the full canonization of Venerable Father Patrick Peyton who inspired this podcast's desire to teach the Rosary to the world through his inspiring ministry.
3
Allow these upcoming handouts and transform your May 2023 classroom, and infuse your lesson planning with these starting ideas that will include the Mother of God and teaching the Rosary as a classroom gift to Jesus. We will post more of our content created to inspire prayer of the Holy Rosary follow through April / May.